Well-Done Examples Of Paraphrasing Paragraphs
Common problems when paraphrasing paragraphs
There are some mistakes people regularly make when paraphrasing text. To avoid problems watch out for these common paraphrasing pitfalls:
advertisement
Reviewing examples of paraphrasing paragraphs and examples of paraphrasing sentences done correctly can help you learn how to paraphrase properly yourself
Changing the original meaning when paraphrasing – Paraphrasing requires rewording the original text. If you try and just change original words with a synonym without checking context, the meaning of the paragraph may change.
Not remaining neutral – When paraphrasing you shouldn't allow any personal opinion or bias influence your wording. You should convey the original author's meaning, no more and no less.
Not doing a complete paraphrase – Changing words out doesn't constitute a paraphrase. A proper paraphrase changes both wording and structure so that the paraphrased version no longer resembles the original except for meaning, which should remain the same.
Use good examples of paraphrasing paragraphs as a learning aid
The approach you take will influence the quality of your paraphrase. The following are some useful tips that will help you with paraphrasing paragraphs:
Read the entire paragraph and make sure you thoroughly understand it before starting to write anything. It is impossible to paraphrase correctly if you don't understand the meaning of the material.
Don't refer to the original when you write your version. This will make it easier to come up with your own wording.
Study paraphrasing paragraphs examples to get some idea of how it should be done.
The following is an example of paraphrasing a paragraph:
Original – William Shakespeare was born in Stratford-on-Avon in April (probably April 23), 1564. His father was a citizen of some prominence who became an alderman and bailiff, but who later suffered financial reverses. Shakespeare presumably attended the Stratford grammar school, where he could have acquired a respectable knowledge of Latin, but he did not proceed to Oxford or Cambridge. There are legends about Shakespeare's youth but no documented facts.
Paraphrase – William Shakespeare was born in 1564 in Stratford-on-Avon. His father, a respected alderman and bailiff, was an affluent community member but later lost his financial security. Experts suspect that Shakespeare went to the Stratford grammar school where he probably obtained a command of the Latin language, however, since there are no documented facts about his childhood, scholars rely on rumors and stories believed to be historically accurate. They do know that he did not continue his education at Oxford or Cambridge.
Original – Exercise can help a lot in alleviating stress – that is a known fact. Exercise is a good way in reducing stress, and cardiovascular exercise is recommended for about 15 to 30 minutes, thrice or four times a week. Several studies have indicated the effects of exercise in handling stress. The activity can release endorphins to the blood stream.
Paraphrase – Exercise is a good way to get rid of stress. It is also a perfect way of lowering stress levels, while cardiovascular exercises that can be done three or four times a week for about 15 to 30 minutes is highly suggested. Research shows that there are positive effects of exercise in dealing with stress. It can help in releasing endorphins in the body.
Original – Dogs can provide great assistance to both children and elderly people in their daily activities. Since dogs are active pets, they can also prove to be the perfect buddies during exercise. There are different types of dogs that you can choose from to make as pets.
Paraphrase – Dogs offer help to the elderly and children in their daily life. Dogs are active pets, providing to be great exercise buddies. There are various breeds of dogs that you can select from for your pets.
Our paraphrasing service offers examples of paraphrasing paragraphs as well as help with any paraphrasing problems you may have.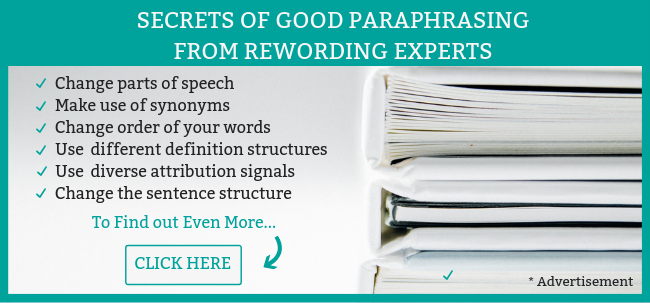 Our paraphrasing service
We offer paraphrasing help that ranges from providing well done paraphrasing examples to the paraphrasing of any type of text for you. Our professional writers are college graduates with extensive experience in paraphrasing. When you use our paraphrasing service benefits include:
Free proofreading and plagiarism checks for paraphrased material
Inexpensive rates that are easy to afford
Guarantees on all work we provide
Customer support 24/7
Contact us for affordable paraphrasing help from well qualified professionals or free examples of paraphrasing paragraphs.